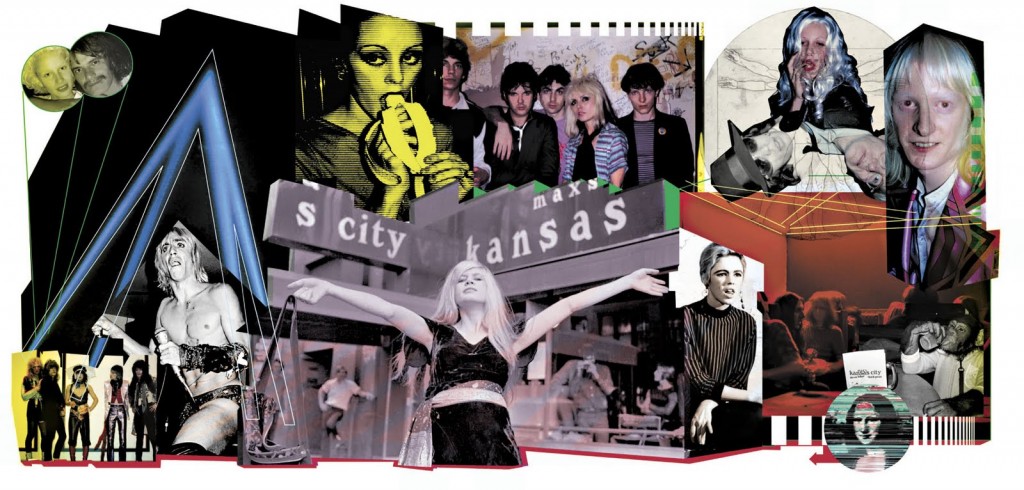 Jacob has worked with Yvonne Sewall Ruskin and Max's Kansas City since 1998, producing several exhibitions and events relating to the legendary Cultural Mecca.
In the fall season of 2004, The exhibition called Max's Kansas City – Art Imitating Life, Imitating Art curated
by Jacob Fuglsang Mikkelsen in collaboration with Yvonne Sewall Ruskin was shown at The Copenhagen Contemporary Art Center,
housed in the 13th Century Churh called Nikolaj in the center of Copenhagen.
It was one of the first exchanges between Copenhagen and New York, as part of what later became The Triangle Project.
The concept and shape of the Triangle had a large part in the design of the catalog that was designed in collaboration with Emilie Hasløv.
The very fact that Dan Flavin's sculpture in the Red Back Room creates one large Triangle
and two within itself is of course also of great inspiration.
The top collage on this page was created by Danish Graphic Designer Sten Jauer for Copenhagen's free newspaper called Citadel.
Most of the images in the collage are taken by Anton Perich and Billy Name.
Curatorial Text:
Art imitating Life, imitating Art
A survey on Max's Kansas City
and it's influence on contemporary art, music, fashion and culture
Curated by Jacob Fuglsang Mikkelsen 2004,
In close collaboration with Yvonne Sewall Ruskin

The original curator of Max's Kansas City was Mickey Ruskin.
He understood artists, but most of all he understood the importance of artists and their art on the rest of the world.
In the same way that kings surrounded themselves with artists, acrobats and troubadours,
Mickey let the cream from the New York City kingdom exist in his castle on Park Avenue South.

The artists Mickey found worthy of his royal treatment spent almost every waking moment–when they were not in their studio—at Max's.
Their basic needs were met with the potent elixir of most artists at the time: Sex, Drugs and Rock n' Roll.
When they came off that high (about four in the afternoon) he gave them chicken wings to fuel another night of productions.

Some had the right distance to New York and America to understand its importance in history.
It was a time when the signs of the times were atom bombs, assassinations and government run wars,
spiced up with a revolution of sex and drugs.
People from all over the world came to Max's trying to cut some of the energy out of the thick layer that covered the place.
A few of these people succeeded very well with their sampling; David Bowie soaked it all in and created his alter ego Ziggy Stardust.
Jim Morrison found his leather style, Warhol his superstars, Anton Perich his painting machine,
Roger Vadim his sexual energy for Barbarella, Oliviero Toscani his attitude and Bob Marley his first stage outside of Jamaica.

This exhibition contains work from and of the people who were Max's spine. It is a selection of paintings, silk screens,
sculptures, photography, video, light and sound installations.
for more information: Max's Kansas City (official Site)
Go to Yvonne Sewall Ruskins Max' Kansas City Project site HERE
Get the Book/Catalog HERE 
Read a Danish Review HERE
Go to The Triangle Project post HERE